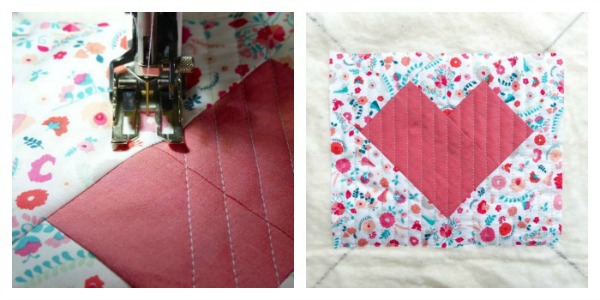 If you are planning to quilt using a machine, you have to make sure that your machine is prepped for the job that you are going to do. The quilting format of each machine is different. It is important that you read through the instructions carefully before trying.
Prepare any quilt that is more than 36 inches x 36 inches by using the following technique. The first step is to lay the quilt on the floor and roll both the side towards the center of the sheet. Leave a 12-inch section of the quilt unrolled. Start your quilting in this unrolled portion of the quilt.
If you are using a machine, trying straight line quilting is the best choice. It produces great results and at the same time it is quicker too. Start by inserting an even-feed by pressing the foot of your machine. In case your machine
does not have an even-feed foot, you can try sewing in the center. You can also check with the manual of your sewing machine to check if there is an even-feed attachment available for your machine.
There are many advantages to using even-feed as it makes the quilting process easier and pucker-free. The quilt layers are fed into the machine in an even manner and hence it becomes very easy to continue quilting.
Free-motion machine quilting can get a little difficult sometimes. It requires some amount of practice to get used to free-motion quilting. There are many books that talk about free-motion quilting alone. You could take help from those to understand how to master it. Once you learn it, you can experiment trying out fancy quilting patterns, many options to decorate which is very interesting.
Follow these tips and have fun enjoying your quilting experience by doing various patterns and designs.
Read More »